How to overcome driving test nerves
10/09/2019
It's perfectly natural, and even a good thing to feel slightly nervous before taking your driving test – as it shows you understand the responsibility that comes with being a licensed driver. But feeling overly anxious can be detrimental to your peace of mind and driving ability – in which case it's important to take the time to get your nerves under control.
Try some of these methods to help you cope
There are a few traditional methods of coping with anxiety you can try. Breathing exercises are one of the easiest tried-and-tested ways to calm yourself down, as when we're feeling stressed, we naturally start to take short shallow breaths – which is the opposite of what we should be doing. By forcing yourself to take slow, deep breaths – in through your nose and out through your mouth, you can force your body's relaxation response to kick in. Cutting out caffeinated drinks can also help you decrease anxiety, as can taking herbal remedies or using positive affirmations to increase your confidence behind the wheel.
How to go into your test with the best mindset
When you've got your test looming, remember that your driving instructor wouldn't be putting you forward for it unless they were confident that you are capable of passing. Ensuring you've got the correct documentation ready, have taken the time to go over any manoeuvres you were struggling with and have revised for your under-the-bonnet questions will help you begin your test feeling confident and in control.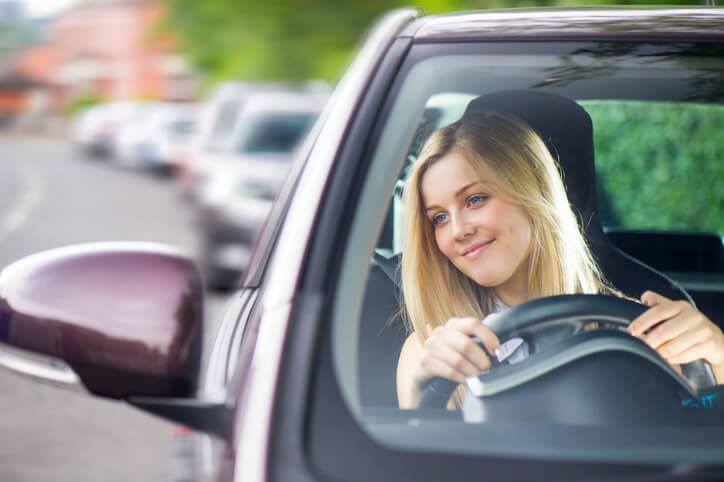 Consider having your instructor sit in the car with you
If you've got a good relationship with your driving instructor, you may find it reassuring to have them sit in the back of the car during your test. Or alternatively, you may feel less pressure having fewer people in the vehicle with you. Either way the decision is yours – so go with what you're most comfortable with.
Take provisions with you
Before heading off on the day of your test – consider taking some provisions with you. A vitamin B rich snack will increase your energy levels and boost your brain function. Taking a bottle of water can also keep you feeling as comfortable and hydrated as possible.
Don't pile on the pressure
If you know you're likely to feel stressed on the day of your test – consider not telling many people in advance. This takes away the pressure of having a lot of people ask about it afterwards, which allows you to relax more on the big day.
How Test Angel can help you cope
Our audio CD Test Angel was created to help you deal with both the psychological and physical symptoms of stress and anxiety that you may experience when driving, and in particular in the lead up to your driving test. Test Angel gives learner drivers the right mental attitude required to pass their test, and provides coping mechanisms to keep the overwhelming panic at bay. The mindset taught is also valuable in setting you up for success in your future endeavours.