FAST Dual Controls, Economical and Reuseable
The purchase and fitting of car dual controls to driver training vehicles can be a major expense for driving instructors. The UK is exceptional in that the majority of dual controls fitted are of a vehicle-specific design and therefore have to be considered 'disposable' on sale of the vehicle. This is wasteful of the ADIs hard-earned cash (the charge for supply and fit of some vehicle specific dual controls can be over £1000!) and an environmentally unfriendly option when compared to universal cable systems.
At about £265 for a car dual brake and clutch set, the ®FAST dual control system offers significant savings over vehicle-specific controls. The greatest advantage of using the system is that it can be fitted to any vehicle time and time again*. Dutch made FAT – Universal controls (marketed in GB as FAST Duals) are manufactured to the highest quality, have the coveted European TUV certification and are sold world-wide. FAT-DC, have been producing this control system for over 35 years and have a wealth of experience in their use for left and right hand drive vehicles.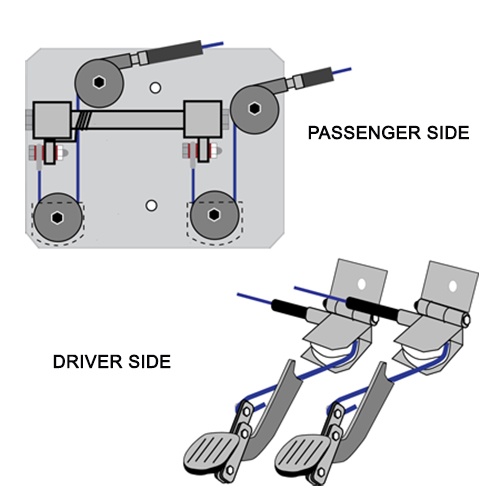 How they work
FAST cable controls use a pulley system to connect the control unit to the driver's side pedals. The clutch features a double pulley system on the control unit to gain maximum pedal travel. The cables pass through a pulley mounted to the vehicle bulkhead on the driver side and are attached to the vehicle controls with a pedal clamp. The clutch/brake cables are independently tested to a breaking strain in excess of 850Kg (8.4KN) - it would take an elephant to generate that pressure! Click here to view the technical file and cable test results.
Uniquely, the control system pedals can be removed simply and easily by lifting them from the support brackets on the control unit – there are no locking pins or nuts to loosen! Ideal for times when the vehicle is not being used for tuition.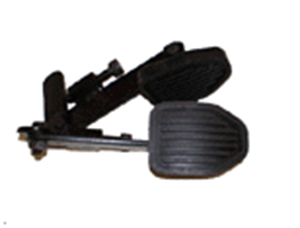 FAST dual controls can be adapted to various configurations including automatic transmission (single wide pedal) and can be supplied with a dual accelerator. Although widely used in Europe and elsewhere, the UK is again exceptional in not making use of dual accelerator pedals. The reason for this is that dual accelerator controls MUST be removed from vehicles used for UK driving tests. The FAST control accelerator linkage and pedal are designed for swift and easy removal prior to test so there is no good reason why instructors shouldn't have this option. However, this does not mean that they can't be fitted as a teaching aid. How often have you thought "If I had a dual accelerator I could demonstrate this hill start" or "I could get us out of this situation and avoid delaying other traffic if I had an accelerator pedal on my side"?
The controls can also be bought with a 'static pedal' option. As the name suggests this means the dual control pedals can be set not to move when the driver operates the vehicle controls. Although it is never possible for the instructor to get his or feet trapped by a falling pedal on FAST dual controls, we are often asked whether this option is available – particularly by those who have previously used rod-operated dual controls. The main engineering advantage of the static pedal set is that the clutch cable no longer needs to travel when the driver operates the vehicle control, significantly reducing wear and tear on the system.
Maintenance
As with all cable controls, the system needs to be correctly installed and maintained to ensure trouble-free operation. The inner steel cables should be replaced annually, or at 12000 miles/20000 km (whichever is sooner). Inner and outer cables should be replaced when the system is transferred to a new vehicle.
Are they suitable for all vehicles?
The FAST dual control system is made to fit any vehicle that has a brake, clutch and accelerator pedal. With small adaptations you can control the original pedals and intervene or train a learning driver. The small diameter and flexibility of the cables means that they can be fitted in even the most compact car. Again, because of this flexibility the control system is well suited for installation in vehicles adapted for teaching disabled drivers where vehicle specific designs can impede the fitting of other adaptions. For larger vehicles (MPV, jeep, bus or truck) you may use longer cables. It is important when ordering to tell us the make and model of vehicle you want the controls for so that we can advise you of any known difficulty* or additional parts/adapter kits that may be needed.
Can I fit these controls myself?
We recommend experienced or Mobility accredited fitters but the control system can be fitted by any competent mechanic. We suggest that you get your fitter to read the installation instructions before you commit to purchase - see link below.
If you are looking for a fitter we have a number of agents who can give advice or quote for supply and fit, fit only or offer a change over service (please contact us). Anyone mechanically minded should not have difficulty fitting these controls - that's the reason we started stocking them in the first place - though it may take some time to do so on your first attempt! Having previously used and fitted rod-operated dual controls on a range of vehicles we were forced to source the universal cable system when we found there was no vehicle specific dual control available for the (then) newly released Ford Focus. That was over 25 years ago and we are now the sole UK importers of these controls.
For more information you can download our generic installation and maintenance booklet here.
*At the time of writing. It isn't possible to 100% guarantee that the controls will fit a particular vehicle/model as car design changes all the time so check with us before purchasing a vehicle if you intend to use the FAST dual control system.