Blue Light! How to Respond to Emergency Vehicles
Fortunately it is relatively rare for drivers to have to respond to emergency vehicles. This means, however, that driver trainers tend to deal with the subject only if an incident occurs during a lesson. The Highway Code offers little guidance on how to deal with emergency vehicles in many situations and the public often responds inappropriately to the presence of emergency vehicles.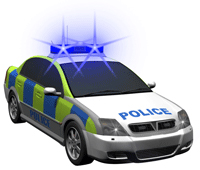 The emergency vehicles you are most likely to see as a driver belong to the Police, Fire or Ambulance services. They can include marked and unmarked cars, motorcycles and pedal cycles as well as the specialised service vehicles you will be familiar with. On an emergency call these vehicles will display flashing blue lights. Other military and civil emergency services may employ vehicles with flashing blue lights, e.g. coastguard, RAF mountain rescue, blood and human organ transport services, bomb disposal units.
DO keep a look out for emergency vehicles when you are driving or riding.
LISTEN for sirens.
CHECK MIRRORS frequently - in some circumstances emergency vehicles may not use sirens.
ASSESS the position, speed and likely path of the emergency vehicle.
GIVE PRECEDENCE when you can safely do so.
AVOID stopping before the brow of a hill, a bend or narrow section of road.
DO signal your intentions by indicators and/or brake lights.
DON'T panic when you see an emergency vehicle behind you. If police wanted to stop your vehicle they would direct you to pull over to the side by pointing and/or using the left indicator.

Do not mount kerbs in an effort to clear a path for emergency vehicles. You could endanger pedestrians or damage your vehicle! Larger vehicles might damage the footpath.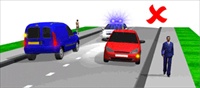 Do not stop opposite vehicles or other obstructions if such positioning would not allow the emergency vehicle to pass.
Try to anticipate what others will do before you stop.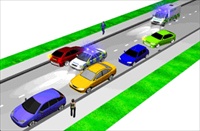 After one emergency vehicle has passed be aware that another may be approaching.
Always check mirrors and listen for other sirens before moving off after an emergency vehicle has passed. When there are two or more emergency vehicles heading towards the same incident they should use different types of siren.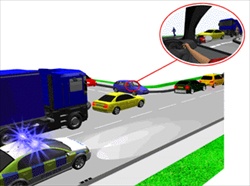 If you are about to emerge from a side road and see an emergency vehicle on the major road, do not try to emerge until it passes.
If your view at a junction is restricted and you HEAR sirens from an emergency vehicle on the major road, do not try to emerge until it passes or you are sure that the situation has cleared.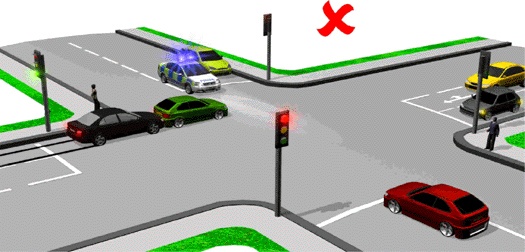 If, whilst travelling across a traffic light junction, you become aware of an emergency vehicle approaching from either side, do not brake harshly. This may cause an accident. If you cannot stop by gradual braking keep travelling across the junction. Check your mirrors! Emergency vehicles must give way to traffic crossing on the green lights. Similarly, if you are on a roundabout and see an emergency vehicle approaching, do not brake harshly to allow that vehicle to enter the roundabout. Check your mirrors! There may be a vehicle behind you that is unable to stop. If possible reduce speed gently without causing danger to yourself or other road users to allow the emergency vehicle to enter the roundabout.
Where emergency vehicles are travelling on dual-carriageways or motorways drivers in front should move to their nearside lanes. This will allow the emergency vehicle to use the outer lane. When moving into the nearside lanes, drivers should signal their intentions and take care not to 'cut in' directly in front of a vehicle already in that lane.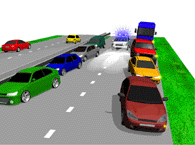 Where the traffic is stationary, such as at traffic lights, or very slow moving on multi-laned roads, the emergency vehicle may straddle the lane markings. Other road users should then move in the appropriate direction to facilitate the progress of the emergency vehicle.
If an emergency vehicle is approaching from behind and you are travelling along a double white line system where the line nearer to you is solid, maintain a safe speed and do not exceed the limit. The emergency vehicle will hang back from your vehicle and may even turn off some of the emergency equipment. If you see an obvious area to pull off the road signal your intention to do so. At the end of the white line system or where the lines change priority find a safe place to stop or slow down to allow the emergency vehicle to pass. Remember that for safety reasons, an emergency vehicle driver has no more right to cross a solid white line down the centre of the road than you.
The images and information shown in this article have been assembled into a handy training aid for driving tutors and contains additional information. This new product was written and designed with guidance from the Police on what to expect, what to do and what to avoid doing when faced with a situation involving emergency vehicles and supplements the general advice found in the Highway Code. Double sided A4 sheets printed in full colour on glossy paper with space for your school stamp are available in tear-off pads (50 per pad) - click here to view.
This article written and illustrated by Dr. John M Wells and Jared Fortin
We acknowledge the assistance of MPC Doug Miners, Devon & Cornwall Constabulary and the Driving Instructors Association for their assistance in producing this work.
Theory First © 2020.