Unique Magnetic Roof Signs From G6S
Our Neo-lite™ magnetic vehicle roof signs are suitable for most cars and light commercial vehicles. Many of our signs were originally designed for driving school cars but most can be used to advertise any business. Our magnetic roof signs feature a smooth gloss finished acrylic surface with long life UV-stability. White signs are guaranteed NOT to fade or yellow with age. All the Neo-lite signs we supply to driver trainers are designed to accommodate a legal sized L-Plate.

The base assembly of our roof signs is fitted with extremely powerful but light weight magpads, each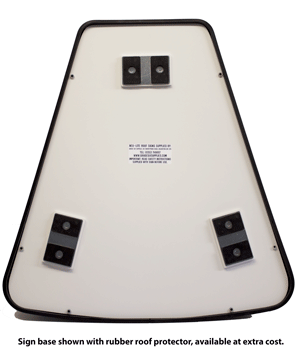 comprising eight rare earth (neodymium) magnets. Manufactured to our specifications these make our roof sign range one of the lightest in the world and the strongest in the UK market. The magnets are encased in rubber and the sign bases hand-finished to minimise the risk of damage to vehicle paintwork.
These light-weight, practical and unique roof sign assemblies are only available from G6S.co.uk.
Magnetic roof signs are designed to be attached to a uniform ferrous metal surface. The current trend in vehicle manufacture is to design cars with a 'D-section' roof. These have shallow ridges or a central channel e.g. Peugeot 208, Ford Fiesta 2017 on and Nissan Micra 2017 onwards. Our signs can be used on these vehicles providing the optional rubber roof protector is installed. You need to tell us if your vehicle has a D-section roof as we may need to supply your sign with a modified base. Please ask if unsure of your vehicle's suitability.
Panoramic glass rooves and metal rooves with large creases/ridges may not capable of supporting a full size roof sign although we will try to help you if you are willing to provide photographs and measurements. With cooperation from customers we've managed to create modified roof sign bases for some of the worst offenders including the Toyota Aygo, and Peugeot 208 /Ford Fiestas with panoramic roof).
Which sign is best for my vehicle?
Some vehicles have high roof curvature which restricts the choice of suitable roof sign. If you are using or intend to use a Ford KA, Vauxhall Corsa 2007 on, Nissan Micra (pre 2017), BMW Mini One, VW BEETLE, Fiat 500, Mazda 2, Seat Ibiza 2010 on, Hyundai I10 (2010-2014), Kia Picanto and similar smaller vehicles we suggest you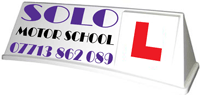 choose from the Mini-acrylic or Aero and Delta range of roof signs which will accommodate the roof curvature. Again, in some cases, where roof curvature is not ideal for any of our range of signs we will also recommend that you purchase a rubber roof protector* fitted to avoid the possibility of paintwork damage. If you are unsure which sign to choose, or you are about to start using a new model, please contact us for advice.
*Note that a rubber roof protector is designed to protect paintwork. It is not intended to prevent air flow under the signs lifting them off the roof. Magnetic force prevents that!
Aero and Delta magnetic roof signs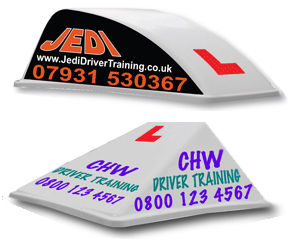 These are manufactured to the same exacting standards as our Neo-Lite range. These sporty-looking signs were originally designed at the request of the Driving Instructors Association for a product with reduced drag. Both the Aero and Delta signs feature display areas to the sides - advertising to potential customers on the footpath rather than the driver behind! The Delta and Aero signs are not as wide as other roof signs. This overcomes most problems related to roof curvature so these signs are usually suitable for most vehicles.
Roof Sign Illumination
:Illuminated signs have the same dimensions as our Acrylic signs but are made from a transluscent material which appears white in daylight. Signs are illuminated with 12V LED lighting powered by the lead supplied. The lead can be unplugged from the sign base and is designed to be wired into the vehicle sidelight circuit. For the UK market, illuminated signs are supplied with a red shield to the rear face as required by vehicle lighting regulations. This gives a pink tinge to the rear of the sign (apart from the L section). Bear this in mind if ordering a lettered sign, choosing colours that will contrast sufficiently to be visible at night.
Black and silver signs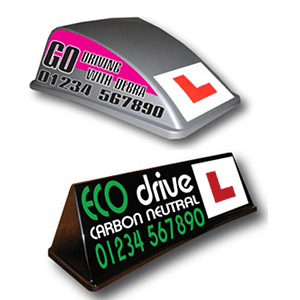 Some of our more popular signs are available in UV-stable acrylic-capped gloss black or gloss silver material. Although a little more expensive to produce these signs can really make your make your business stand out from the crowd.
Signage precautions: On receipt of signage you should take note of the 'precautions for use' and application instructions supplied with the product. If you mislay the instructions or want to view these before you order click here.